Following are the elements generally constructed in precast concrete building construction:
Precast concrete frame
Precast concrete wall
Precast concrete floor
Precast Concrete Frame
Precast concrete frames involve an entire structure being fabricated off-site. In addition, structural components can be supplied for incorporation into a structure on-site. Frames can simultaneously achieve both structural and decorative design requirements – a wide variety of mixes, colours and finishes can be accommodated.

Benefits of using Precast Concrete Frames
Enable faster programme times – not affected by weather or labour shortages.
Improve buildability – structure is fabricated off-site for rapid erection on-site
Have a high quality finish that can be left exposed – concrete's thermal properties can be exploited in low-energy buildings.
Produce a high standard of workmanship in factory conditions – reduces potential for accidents, addresses on-site skill shortage.
 
Precast Concrete Wall
Precast concrete walls are used for internal & external walls, lift shafts, central cores etc. Precast wall system are mostly used in domestic construction, both for individual housing & for apartments. The solution can be considered as the industrialized form of cast in-site walls or classical brick or block masonry walls.
 The precast walls can be load bearing or only partition walls. Precast walls offer the advantage of speed of construction, smooth surface finishing, acoustic insulation & fire resistance.
Precast Concrete Floor
Types of precast concrete floors:
Hollow core floors
Ribbed floors
Concrete roof elements
Massive slab floors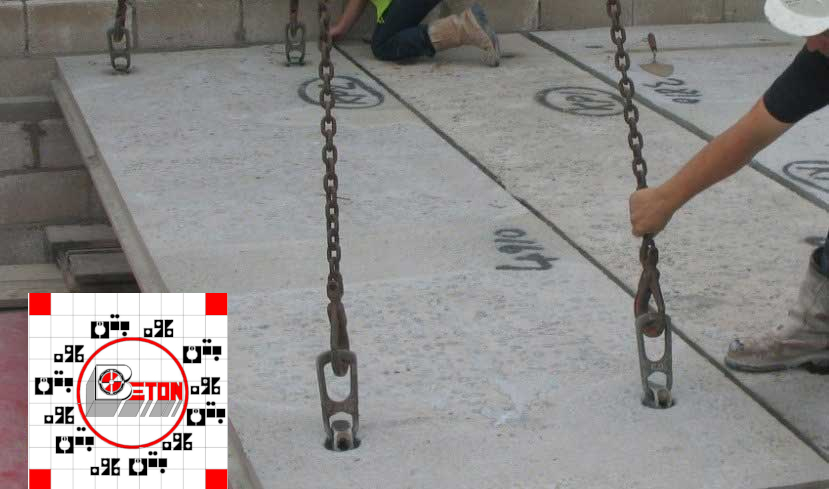 The principle advantages of precast floors are speed of construction, absence of scaffolding, large variety of types & economy. Precast floors can also be classified according to their manufacture into totally & partially precast floors. Totally precast concrete floors are composed of units, which are totally cast at the plant. After erection, the units are connected to the structure & the longitudinal joints are grouted. In some cases a cast in-situ structural topping screed is added. Partially precast concrete floors are composed of a precast part & a cast in-situ part. Both parts are working together at the final stage to achieve the composite structural capacity.
Kaveh Beton
Resource: theconstructor.org